Our company was founded in 1992. From this time number ouf our employees has grown to more than 20. You can find our labs in Plzeň and Karlovy Vary.
We make all sorts of stomatological products, such as ceramic, zirkonceramic, all zirkon and metalceramic crowns and bridges, implants, telescopic crowns, scelets, dentures with attachments, esthetic dentures IVOCAP, flexible dentures DEFLEX, teeth protectors PLAYSAFE, splints againts bruxism, splints against snoring - Silensors ...using only perfect materials to keep high quality level of our products.
From the year 2011 we scan and design in EXOCAD program, in 2019 we widen our facilities bya Japan 5 axis dental milling machine ROLAND DWX 52D. We mill zirkon and PMMA crowns and bridges based on prints, gips models or intraoral scans.
OUR MILLING MACHINE DWX 52 D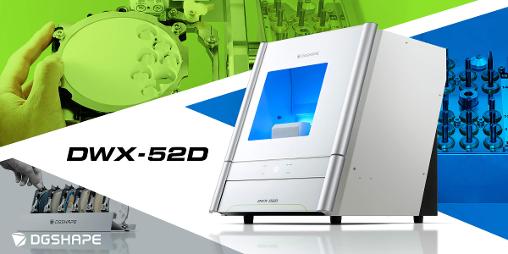 The next generation 5-axis dental with wide material capabilities and enhanced features - precision milling of zirconia, wax, PMMA, composite resin and more
We use high quality zirkoniumdioxide and polymers , such as Dental Direkt, Whitepeaks...
CROWNS AND BRIDGES
ZIRKONIUM
All the advantages of metal-free zirconium dental crowns are derived from the unique properties of the material – zirconium dioxide - light weight, natural transparency and translucency of zirconia approximately equal to light transmission of natural tooth structure, hypoallergenic and steady color.
ZIRKONIUM-CERAMIC
The colored milled frameworks made of zirkonium are veneered with Ivoclar Vivadent IPS e.max Ceram porcelain for an exceptional esthetics.
CERAMIC PRESS
IPS e.max Press is a lithium disilicate glass-ceramic (LS2) for the press technique. The ingots are available in five translucency levels and in an Impulse version. The polychromatic IPS e.max Press Multi ingots are selected to suit the case and the preferred processing technique. The results look very natural and are similar to teeth.
IMPLANTS
LASAK, STRAUMANN
DENTURES
IVOCAP DENTURES

SPECIAL PROSTHETIC SYSTEM using consistent pressure enables controlled injection-moulding of the denture base material. This technique ensures continuous shrinkage compensation. Heat polymerization of the IVOCAP material in the polymerization bath assures exceptional material quality. Pressure/heat polymerization enables both a high degree of polymerization and an excellent adhesive bond to resin - teeth. Optimum shrinkage compensation enables the fabrication of dentures that demonstrate exceptional accuracy of fit, dentures are hypoallergenic and comfortable. The special polishing properties help reduce the build-up of plaque.
DEFLEX esthetic flexible dentures

Deflex thermoplastics in comparison with conventional acrylic are monomer-free, have greater resistance, are light and have a very low fracture rate. With the appropriate design and thickness, Deflex dentures offer a fine balance between flexibility and stiffness. Flexibility ensures comfort and easy adaptation and adequate retention properties. The main advantage are non metal clasps.
SPLINTS
TEETH WHITENING

The bleaching trays are made of a clear soft flexible plastic (0,4 – 1 mm), one is made for your upper teeth and the second one is made for your lower teeth. They are trimmed so they fully cover each tooth but come just short of lying on your gums.
BRUXISM
The term bruxism is defined as: "clenching of the teeth, associated with forceful jaw movements, resulting in rubbing, gritting, or grinding together of the teeth, usually during sleep." Possible signs, complications or damage that may occur are these: Usually a generalized soreness and/or a cold sensitivity, wearing of teeth – it occurs from the movement of the teeth harshly against one another. Although all teeth may show this type wear, it is especially noticeable when a person has front teeth that appear having the same length, sore muscles (especially in the cheek and temple area), headaches (especially upon waking in the same muscle areas mentioned above). Nightguard is a plastic custom-made splint. Its function is basically to cover and prevent the teeth from coming together while sleeping at night, but most importantly, when in place, it provides a correct bite so that muscles will relax and problems in a persons bite will not trigger the bruxing action. More information will give you your dentist.
SPORT MOUTHGUARDS - PLAYSAFE
PLAYSAFE sports mouthguards ensure safety for your teeth when doing sports. Comparing fabricated and custom sports mouthguards with Boil and Bite type mouthguards reveals significant differences. PLAYSAFE sports mouthguards are custom-made to fit exactly to your teeth. They are durable, do not move while doing sports, allow speaking after a short phase of getting used to it. They are available in a big variety of colors, for example in the colors of your team.
SPLINT AGAINST SNORING - SILENSORS
Snoring is generated when soft tissue vibrates. During sleep, muscle tone in the neck and pharynx decreases. This causes narrowing of the pharyngeal space, the required volume of air must be inspired at a higher velocity and noisy vibration (snoring) of soft tissues, such as the velum palatinum (soft palate) and the uvulum is stimulated. Silensor widens the respiratory tract by anteriorization (moving forward) of the lower jaw. The velocity of the inspired air decreases, noise-generating vibrations of soft tissue (snoring) is decreased or prevented completely. Silensor consists of two transparent splints, one each for the upper and the lower jaw. The lower jaw is held in a predetermined position by 2 connectors that are fixed laterally to the splint causing the pharyngeal space to open up. When breathing through the nose is difficult or blocked, e.g. by polyps, the use of the SILENSOR is in no way precluded. The fitness of the usage will recommend you your dentist.
CONTACT US:
Čechova 44, Plzeň 30100 or Bezručova 8, Karlovy Vary 360 01, Czech Republic
okdent@seznam.cz, okdentkv@gmail.com, phone: +420 777 267 758